Bottom Mount Refrigerators vs. Top Mount Refrigerators: Which Is Better?
Today's kitchens bring a bevy of culinary marvels to the modern home, and while your cooking appliances are what help you get the job done, it's the refrigerator that stores and preserves the ingredients you need for exceptional dishes. Refrigerators come in a wide variety of designs, and if you're looking for a great unit, you may want to consider a bottom mount refrigerator or top mount refrigerator.
Top and bottom mount refrigerators are two of the most popular designs available, but which type is better for your home? To help inform your decision, we've gathered some useful information on these refrigerators.
Top Mount Refrigerators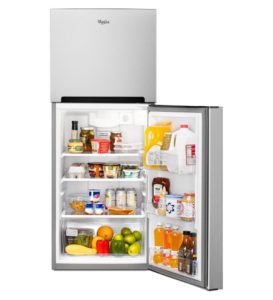 When you think of a traditional refrigerator, there's a good chance you're picturing a top mount refrigerator. These units, also known as top freezer refrigerators, feature a large fresh food compartment below a smaller freezer compartment, providing the ideal amount of storage space for many homes.
The biggest advantage to these units is their size. Top mount refrigerators are typically between 30 to 33 inches wide, and feature wider doors and interior storage areas than many other models. Moreover, the fact that these refrigerators are so common means that there is an impressive range of sizes, styles and designs available for your kitchen. If you want a more versatile model, consider a freestanding top mount unit. For a more contemporary feel, you may want to invest in a built-in top mount refrigerator. Best of all, top mount units tend to be the least expensive refrigerators on the market, making them a great budget-friendly choice for today's homeowners.
Top mount refrigerators are a great choice for many homes, though these units do have some drawbacks. The greatest disadvantage to a top mount unit is the fact that you'll need to frequently bend down to reach fresh food. This bending is definitely less-than-ideal for many homeowners, especially if you have back problems.
Bottom Mount Refrigerators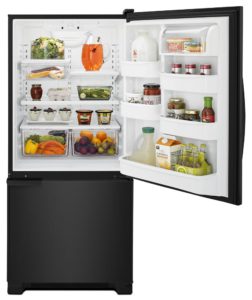 Bottom mount refrigerators, otherwise known as bottom freezer refrigerators, are units that feature a fresh food compartment on top and freezer on the bottom. Compared to top mount models, these units offer much easier access to fresh ingredients and beverages — the items you likely use most often. Another great benefit of these units is their spacious freezers, which tend to be larger than top freezer units. Like most types of refrigerators, bottom mount models are available in both freestanding and built-in designs, allowing you to choose the proper fit for your kitchen aesthetic.
Thanks to an abundance of space and easy-to-access design, bottom mount refrigerators are an ideal selection for many kitchens. However, it's worth noting that these units tend to be more expensive than their top mount counterparts. Moreover, you will need to bend down to access the freezer, which may be an inconvenience depending on how frequently you use your freezer.
Discover The Perfect Refrigerator For Your Home
The contemporary kitchen simply isn't complete without a great refrigerator. Both bottom mount and top mount refrigerators are popular choices, with their own sets of pros and cons. But in the end, the perfect refrigerator for your home is whichever one matches your needs. With some basic information on top and bottom mount units, you'll be able to navigate the sea of choices available to find the ideal refrigerator for your kitchen.
You can begin your appliance search with this online collection of refrigerators. For additional assistance, be sure to contact a home appliance expert.