Thank you GE for this awesome recipe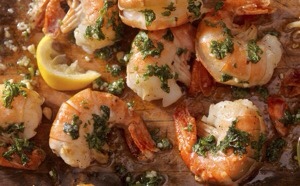 Do you like Shrimp? Do you like garlic? If the answer to both of these questions is yes, you're going to love this Grilled Lemon Garlic Shrimp recipe from GE. My wife has an awesome Shrimp Scampi recipe that she makes on special occasions, so I KNOW that I'm just goint to love the combination of Grilled Shrimp, Lemon, and Garlic. Now, I have a recipe that let's me grill shrimp using two of the major ingredients from Shrimp Scampi.
Just a word from our sponsor 🙂

No grill? Then check out the awesome grill below from GE Monogram:

Features:
2- 25k BTU Stainless U-Tube Burners
15k BTU Infrared Rotisserie Burner
25k BTU Infrared Searing Burner
Stainless Drop-In Smoker Box
Fully Factory Assembled
Grilled Lemon Garlic Shrimp Recipe
I'm dying to try this new recipe. Why not join me and share your results in the comments section below?
INGREDIENTS:
1 pound large shrimp, peeled and deveined
1/2 cup olive oil
4 cloves garlic, minced
1/4 cup lemon juice
1 tablespoon snipped fresh parsley
Fresh spinach leaves
Grated Parmesan cheese
METHOD:
Combine olive oil, garlic, lemon juice and parsley in a large zippered bag or container with a cover.
Place shrimp in the mixture and let marinate in refrigerator for 30 minutes to 1 hour.
Thread shrimp onto skewers and discard marinade.
Grill over medium heat for about 6 minutes until pink and opaque.
Serve over spinach leaves and sprinkle with Parmesan cheese.
——-
For more information on the GE Monogram Grills and other major appliances or plumbing fixtures call or visit the professionals at one of the KAR locations below:
---