We've written before about the challenges of a tiny kitchen (see below), but whether you live in a cottage, a small condo, or a compact add-on unit, you've got choices in supplying your living space with appliances.
Click on the link below:
Smaller Appliances for Smaller Kitchens
Bosch is launching a new line of compact kitchen and laundry appliances designed for space deprived living units. Their offering includes: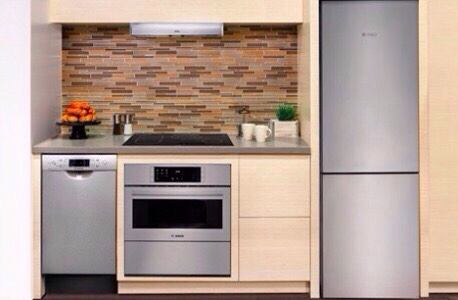 Laundry Appliances:
Compact Front-Load Washer
Compact Condenser Dryer (no venting required)
Kitchen Apppliances:
24″ Electric Cooktop
24″ Gas Cooktop
24″ Electric Oven
18″ Dishwasher
24″ Refrigerator/Freezer
These Bosch appliances may be small in size, but they come fully-equipped with the same popular features you'd expect to find on Bosch's German engineered full-sized appliances. In fact, you might say that the European heritage of Bosch gives them a distinct advantage in the small-sized appliance category, since standard sized European appliances are 60 (mm) = approximately 24″ wide.
In the laundry category, Bosch's washer and dryer can be installed as a stacked pair freeing up additional space. Dryers often present a challenge because they need to be vented out. However, the Bosch compact dryer has a condensation dry system that is designed for ventless operation. Scheduled for July 2015 availability, Bosch will be offering 3 different models to choose from.
In kitchen appliances, the Bosch dishwasher is a fully featured dishwasher, but comes in at only 18″ wide, 6″ slimmer than standard dishwashers. The 24″ wall oven will fit underneath the cooktop, to save space or can be conveniently placed in a standard wall cabinet at eye level. The cooktops will be available in either gas or electric versions. All new to Bosch is the 24″ wide refrigerator.
Let's take an in-depth look at the new Bosch 24″ wide Refrigerator. Don't be deceived by the narrow width, this refrigerator comes with gallon storage in the door, glass shelves, and dual-evaporators – a feature normally found only on top-of-the line full-sized units.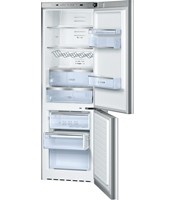 B11CB50SSS

The LED Lighting Shines Exceptionally Bright and Saves Energy.

The HydroFresh Drawer Keeps Fruit and Vegetables Fresh Longer.

Use the Wine Rack to Store Your Favorite Wine Bottles

Ideal for Compact Kitchen Layouts in Metropolitan Areas


Energy Star® Qualified for Energy Efficiency.
Click Below for complete product info sheet on this refrigerator:
Bosch B11CB50SSS Product Info
Click below for UAKC details and pricing:
Bosch B11CB50SSS UAKC Pricing
For additional information on Bosch, other appliances, or plumbing fixtures contact the experts at KAR.
---