Architizer 2015 Award Winner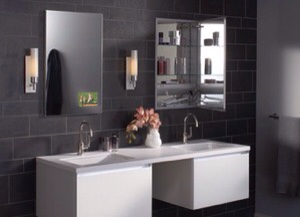 It was no surprise to find out that the Robern M Series cabinets received the Architizer 2015 A+ Grand Prize in the Bath – Cabinetry category. The M Series was selected by a jury of more than 300 architecture and interior design industry professionals. Here's how Robern describes this product line:
Robern's premier line of modular medicine cabinets, M Series combines style and functionality with integrated lighting, magnetic storage, built-in electrical and USB outlets and mirror defoggers.

While we've written about Robern here before (Robern Vanities), the M Series is deserving of special note. The stylish design is accompanied by the functionality of Robern's integrated lighting. Personally, I love the magnet to hold nail clippers or other magnetic tools. And who wouldn't want electrical outlets, and a USB charger for their iPhone? Robern even offers an optional electronic mirror defogger. But, the ultimate mirror comes complete with a TV screen built right into the lower corner. Keep up with the news while you're getting ready in the morning.
It seems that the folks from Robern haven't left anything out. They've even included an integrated and programmable night light.
KAR has a complete selection of Robern bath cabinets, vanities, lighting, and accessories. Call or visit UAKC today for the lowest prices and best availability on plumbing fixtures and appliances.
---