Old Concept: Surprising New Benefits
Electrolux Twins at UAKC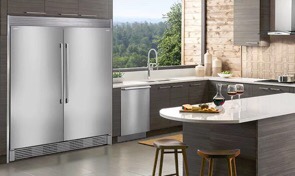 For many years the folks at Frigidaire/Electrolux had been known for offering an All Refrigerator and an All Freezer. Selling them as a combination was not a new idea, but the concept was slow to catch on. However, this may be an example of an idea whose time has come. The current Electrolux Twins are part of the luxury collection of appliances in the Electrolux brand, and are being presented as a good choice for a built-in refrigerator/freezer.
There is a lot to offer here:
1. Full-size built-in refrigerator, and full size matching freezer (72″ wide)
While the products are mirror images of each other, and are clearly made to match, they are indeed separate and can be purchased that way if you just want an all refrigerator or an all freezer. The features are fully updated with LED lighting, slide out glass shelves, etc.
There are trim kits (faux grills) available for both the top and bottom that are 72″ wide, and visually tie the two units together. The doors are configured in the photo so that the refrigerator and the freezer each open in the center, just as you would expect on a traditional side-by-side refrigerator/freezer.
2. Traditional compressor in the back.
Standard built-in refrigerators have the compressor on the top requiring an 84″ height. The Electrolux units have the compressor and machine compartment on the back in the bottom of the appliance, are easier to access and do not require the 84″ height. This makes install and service easier, and provides upper cabinet space.
3. Completely separate refrigerator and freezer.
There are actually two model numbers and two separate products that are involved in this configuration. They can be separated and, in fact, look good if located at opposite ends of a common wall. An advantage that is worth pointing out is that there are two completely separate cooling systems and no sharing of air between the two so that air from the refrigerator will not mix with the freezer causing the ice cubes to smell like cauliflower, etc.
For more information about built-in refrigerator choices, Electrolux, and other major appliances, or decorative plumbing fixtures call the experts at KAR
---