We're always looking for tasty recipes to share, and we appreciate getting some really great ones from our top brands. Here's an awesome frittata recipe from Thermador. While we may be a little late for Mother's Day, this recipe is perfect for any special breakfast or brunch occasion.
Thanks to Thermador for the recipe and and be sure to take a look below at their new Pro-Harmony 30″ wide, 24″ depth range that gives you Pro performance, yet fits in a standard kitchen range opening.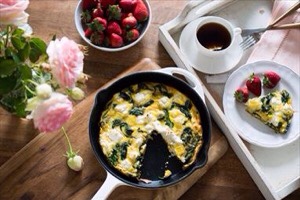 Goat Cheese and Spinach Frittata
Enjoy this frittata as a breakfast or brunch main course. Add any of your favorite vegetables along with the spinach, including mushrooms, onions, slices of heirloom tomatoes, bell peppers or asparagus.
Serves: 6
10 large eggs
¼ cup milk
¼ teaspoon kosher or sea salt, or to taste
¼ teaspoon fresh cracked black pepper, or to taste
2 tablespoons butter, divided
3 cups fresh spinach leaves, tough stems removed
4 ounces goat cheese, crumbled
(optional) serve with toast, fresh tomatoes or fresh fruit
Pre-heat oven to 425 degrees F. In large bowl, whisk together eggs, milk, salt and black pepper. Heat a 10″ cast iron or oven proof skillet on medium-high heat. Melt 1 tablespoon of butter, then add spinach leaves. Saute spinach until wilted, about 1 -2 minutes. Melt remaining 1 tablespoon butter, then pour in the egg mixture. Stir egg mixture and cook untouched for about 20 seconds or until the sides begin to set. Gently gather in the sides of the cooked egg around edges of the pan with a heat-proof rubber spatula to let uncooked egg flow underneath. When the bottom of the eggs have set on the edges, add goat cheese on top. Transfer the skillet into the oven and bake for about 15-20 minutes, or until the frittata is fluffy, light brown on top and the center is just set. Serve warm with toast, fresh tomatoes or fresh fruit.
30 inch Professional Series Pro Harmony Standard Depth All Gas Range
Model: PRG304GH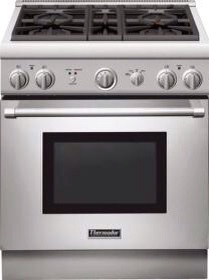 When Thermador launched their new Pro range lineup at the 2014 IBS/KBIS show in Las Vegas, it was the talk of the appliance community, but they weren't quite finished. This year at the 2015 IBS/KBIS. Thermador added a 30″ version of the Pro range which will fit in a standard kitchen. That means you don't have to remodel your kitchen to make room for a high performance range. The 30″ width Thermador Pro Harmony Range will take the place of any standard 30″ gas range.
More importantly, the new Pro Harmony Range comes with the same great Thermador features such as the pedestal Star® Burners (2 with ExtraLow® feature) and a 4.4 cubic foot oven.
PATENTED STAR® BURNERS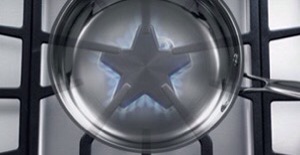 The Star® Burner's unique shape isn't just for show. The Star® delivers 56% more coverage with superior flame spread and a reduced cold spot for faster and more even heating across any size pan.
For more information on Thermador and other great appliances and plumbing fixtures, call or visit the professionals at KAR today.
---